SEA Legal & Business Advisers strive to provide its prospective clients with a practical 'no nonsense' service platform that will enable them to efficiently explore lucrative business opportunities in South East Asia. This service platform is achieved by providing a full scope of legal services to its prospective local and international clients in the South East Asia region by seemingly joining locally-based legal and commercial expertise with international practice level of services. By understanding the local culture, practices and nuances coupled with employing innovative and solution 'can do' approach our team believes in 'getting the deal done' in a cost effective manner and a timely fashion. Our main values consist of:
Quality over quantity and employing operational excellence
Providing 'value for money' and services in a timely fashion
Seemingly bridging the gap between locally based practices and international standards and expectations to which clients are accustomed to
Tailored approach to clients' needs in execution of transactions both on technical and fee structuring level to best suit the clients' needs
Providing product quality beyond clients' expectations in a collegial team culture and a friendly atmosphere
Cultivating long-term relationship with key clients in offering beyond merely legal advice of 'know-how and how to go about' guidance, being highly commercially oriented and providing in addition business and strategic advice and providing 'out of the box' solutions for achieving desired clients' results
This uniqueness is achieved by the vision of the founder of SEA Legal & Business Advisers, Mr. Joseph Y. Merling, who brings to the table more than 22 years of legal and commercial expertise and knowledge accumulated from his long term experience in both spheres of first-tier ranked international and local law firms (in England, Israel, Africa, Thailand, Myanmar and the greater region of South East Asia) and by working closely and jointly on transactions with associated offices of first class quality in Thailand, Myanmar and the greater region of South East Asia.
L.L.B. Law and B.A. in Business Administration (1st Class) Keele University (for outstanding performance and scores, awarded the Maxwell Law Prize).
English Qualified Lawyer (Member of the Law Society of England & Wales)
Israeli Qualified Lawyer (Member of the Israeli Bar Association)
Languages: English (fluent), Hebrew (fluent), Thai (Basic)
Recent Accolades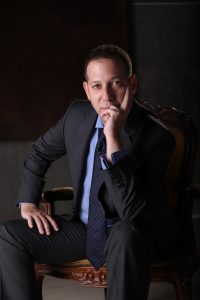 IFLR1000, 2021 – Banking & Finance, M&A and Project Finance – Highly Regarded
Asia Pacific Legal 500, 2014- Corporate – Recommended Lawyer
IFLR1000, 2014 – Banking & Finance – Leading Lawyer; Corporate – Expertise in corporate matters
Asialaw Leading Lawyer, 2014 – Project Finance – Leading Lawyer